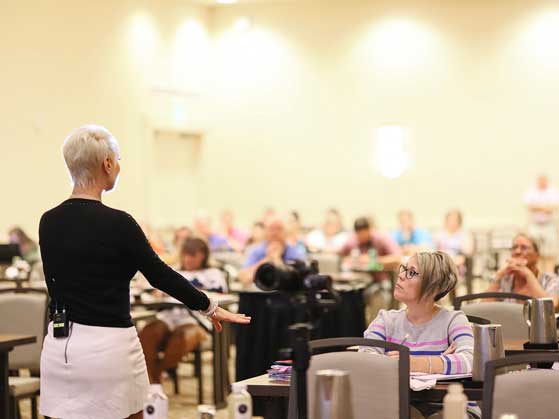 Interview with Deb Meade, Owner - Health Management
Kris B Harmony, President of Kris B Harmony LLC interviews Deb Meade, Owner of Health Management, in the AHCA Provider Lounge. Deb discusses her facilities' biggest challenge: staffing. Deb believes that a profession in long-term care is not just a job, it's a calling. With that in mind, her top priorities (as well as challenges) are staff retention and continuing education in order to meet the Requirements of Participation. (Audio transcription below).
---
Transcribed Audio:
Kris B Harmony: Good Afternoon. Thank you for joining us at the American Healthcare Provider Lounge. Today we have Deb Meade from Health Management, Owner. Located in central Georgia. Thanks for coming.
Deb Meade: Thanks. It's great to be here.
Kris: So Deb the viewers would love to hear a little bit about your organization and then maybe we'll transition into some discussion about some of your challenges.
Deb: Okay, great. The majority of my properties are in Warner Robins, Georgia. I have assisted living with 88 beds and 39 independent apartments. Then I have skilled care property there with 66 beds. Then in Macon I have a facility that has 97 beds and then in Savannah I have a 101 bed skilled facility. And then my most exciting project is back in Warner Robins. I just opened up a subacute skilled facility that we do a little bit of everything. We do hips and knees. We do cardiac, respiratory, therapy patients. Two wings set up for that and I have a long-term wing as well. So that's a 106 beds and it sits on 15 acres and it's 78,000 square feet. That's been my exciting challenge for the past year. We opened up a year ago.
Kris: Oh, that sounds simply amazing and you know it's a lot of work and a lot of time and attention in one, but you have multiple facilities. Extremely well-reputed; great reputation, but with all the payment reform and all of the regulatory changes what are you finding to be your biggest challenge?
Deb: Staffing. The biggest the challenge is finding good quality staff that want to actually work in long-term care because it's a calling – it's not a job – it's a calling. You have to love these people and love what you do and love what you are doing for them. I love to say that you are going to make a difference in somebody's life every single day of your job. I get emotional…and finding that person is huge. And then when you find that person, you want to keep them because they're a diamond in the rough. But not everybody stays and so then with the Requirements of Participation one of the biggest challenges that we are going to face is the education piece and making sure that everyone has that knowledge. Everyone gets that and constantly. It's going to require another staff member to do nothing but training.
Kris: And this is important for the viewers because you see the Final Rule or the Requirements of Participation is asking that providers to have competencies. So after you build your facility assessment and define what you have, every staff member has to be trained and what Deb is alluding to is that when they're training if there is turnover or they leave you have to retrain them. And again, retention is everyone's number one goal but if the expectations are competencies, which we see and agree with, there needs to be compensation on a federal level as well.
Deb: You're correct. I'm not opposed to it. I think it's great. I think the more education and the more we can do for these staff members. I agree with the Requirements, but how do we get there and what are the resources and how are we going to pay for those resources. That's the whole piece that the owners, that we're struggling with and my building runs 40 Medicare and we've set 80% of our discharges home.
Kris: And let's pause for a second. When you have that volume the outsider may not be aware that that's turnover and that's resources that need to be on that process. That's very important.
Deb: And then the next challenge is that discharge piece. So we've got to start working and we have been. I want to say my building is ahead of the game because this is something I've strived for without a requirement. I mean I want CMS to understand that we want what's best too. We're there, we know what we need to do it's just getting those resources and those dollars to cover it. The one discharge piece that we are not as good as I'd like to see that the Requirements are bringing to us is that complete education for that family or that patient and them understanding their diagnosis, side effects, every medication that they're on and understanding the side effects of those, but understand they come with 20 medications so…and they're not going to understand. Reality is they're not medical people and getting that piece to where they understand…that's going to be a challenge to us.
Kris: And you know, the final comments on that…when you talk about the continuum, when you talk about the skilled nursing facility versus the home care versus the assisted living and you have a lot of the continuum within your organization. Medication management in itself can be essentially a full-time job. Not that the industry would like the patient to stay under the roof of a skilled nursing facility, but I think there's a major underestimation of the value of the skills being provided. Listen, thank you so much for coming today. I hope you have a great conference. Thank you.
Deb: Thank you.